2/2 Coax Solenoid
2/2 way coaxial solenoid valve range.
Process and Design Engineers can choose any 2-way coaxial solenoid valve according to the system maximum pressure limits, thread or flange size, orifice flow rate, seal type, body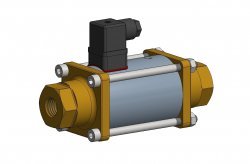 material and sealing options thus providing the best cost effective solution to match the application at hand.
Choosing the model according to port size required or existing pipe size and type, pressure rating, orifice size according to required flow, seal and body material according to media.
Below are examples of the more popular 2/2 way coax solenoid valves, all have options for normally closed or normally open. Stated maximum pressures shown are according to maximum inlet pressure however coaxial valve can handle back pressures at reduced rates typically 16 bar maximum, models with X denote sub base mounted valves and ATEX hazardous area valves.
Special options available: (03) PTFE sealing, (08) Manual Over Ride, (12) Vacuum Version, (15) Mounting Brackets, (10) Oil and Grease Free, (19) Position Feed Back, (29) Metal Terminal Box, (20) Connector with LED, (07) Special Connection, (06) Special Voltage.
You can view a typical technical data sheet here...