2/2 Coax Pneumatic Valve
2/2 way coax pneumatic valve range.
Pneumatically operated or external pilot air controlled 2/2 way coaxial valves are available across a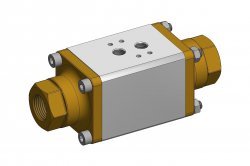 wide range of port sizes, port thread or flange type, orifice size, pressure range, body materials, seal material and function to provide the best cost effective solution to match the application at hand.
Below are example of the more popular 2/2 air actuated coaxial valves, all have options for normally closed or normally open. Stated maximum pressures shown are according to maximum inlet pressure however coaxial valve can handle back pressures at reduced rates typically 16 bar maximum, except model 286 that is 100% leak tight up to 40 bar back pressure.
You can view a typical technical data sheet here...