3/2 Coaxial Solenoid Valve
3/2 way coaxial solenoid valve range.
3/2 way Coax solenoid controlled valves are available across a wide range options, these valves can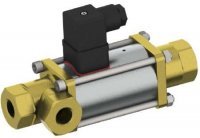 be chosen according to pressure range, various material of construction, several seal materials, orifice size for flow rate, port connection size and type according to individual system requirements to provide the best cost effective valve solution to meet each individual application.
Special options available: (03) PTFE sealing, (08) Manual Over Ride, (12) Vacuum Version, (15) Mounting Brackets, (10) Oil and Grease Free, (19) Position Feed Back, (29) Metal Terminal Box, (20) Connector with LED, (07) Special Connection, (06) Special Voltage.
You can view a typical technical data sheet here...